Carolina Architects
Finding The Right Architect
You probably have a pretty good idea of what you want your dream house to look like. The right architect has the education, training and experience to work with you to turn your vision of the perfect home into reality. An architect can save you money by finding innovative ways to reduce building costs, by building your house with an eye on energy efficiency and by considering resale value when designing your home.
An architect can save you time and trouble by finding the most qualified construction contractors and by representing your interests at the work site, making certain that the home is being built according to plan.

Most important, an architect is your partner, melding his vision and ideas with yours to create a home that will serve your needs today and in the future and fulfill your dreams for years to come.
The American Institute of Architects puts it this way: "Architects are specially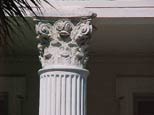 educated to help you define what you want to build, present options you might never have considered and help you get the most for your valuable investment. They don't just design four walls and a roof ... they create total environments, both interiors and exteriors, that are functional and exciting places in which to live."
On the following pages, you will find our annual directory of architects who are making dreams come true along the Carolina Coast, from Hilton Head, S.C., to Wilmington, N.C. Those listed in North Carolina are all members of that state's chapter of the American Institute of Architects. Information on South Carolina architects came from the Board of Architectural Examiners of the Department of Labor, Licensing and Regulation. Each company has been verified by phone or email by the staff at Carolina Homes & Interiors.
Herlong & Associates
Designing a home to meet your specialty needs can be a gruesome task, especially if you are not certain what you, and your family desire in a custom home. When the Teel Family decided to build a custom home in the coastal areas of South Carolina... Read More
Charleston, SC Architects | Hilton Head, SC Architects
Myrtle Beach, SC Architects