Hilton Head Island, SC Top 10 Home Builders
including Beaufort and Jasper counties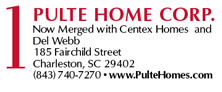 Centex Homes, based in Dallas, has been building homes, winning awards and breaking new ground for well over half a century.
The company, established in 1950, in the beginning built homes only in Texas. Before long, however, Centex ventured outside the Lone State State, making history by building America's first master-planned community, Elk Grove Village, near Chicago.
Centex, which now operates in more than 90 U.S. markets in more than half the states in the country, has earned several awards and honors, including being named "Most Admired Big Builder" more than once by BigBuilder magazine and taking a spot on Fortune magazine's list of "America's Most Admired Companies."
In 2009, Centex and Pulte Homes announced a merger that created the nation's largest home-building company. Pulte Homes is headquartered in Bloomfield Hills, Mich.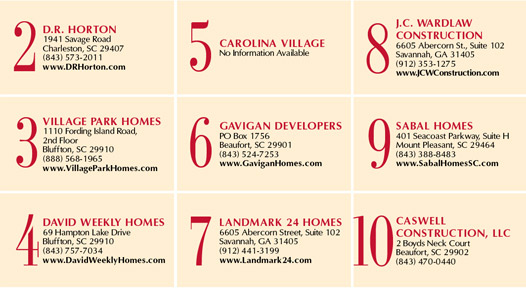 RANKINGS BASED ON TOTAL 2010 DEED TRANSFERS,
AS REPORTED BY MARKET OPPORTUNITY RESEARCH ENTERPRISE,
KNOWN AS THE M.O.R.E. REPORT