Wilmington, NC Top 10 Home Builders
including New Hanover County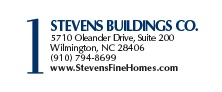 Stevens Fine Homes has been building in the Wilmington area for three generations, along the way establishing a stellar reputation for quality work, outstanding customer service and cooperation with other professionals in the home-building industry.
Craig Stevens, a North Carolina State University graduate who moved to Wilmington in the 1980s, learned the residential construction business from his father and grandfather. He has been active in the local building community, having served as chairman of the Parade of Homes and on the board of the Wilmington-Cape Fear Home Builders Association.
Highly regarded by local realtors and by New Hanover County's building inspectors, Stevens Fine Homes has built a reputation for producing homes that far exceed its clients' expectations. According to the company website, "every nail driven, each square of tile laid is overseen with the acute eye for detail that Stevens Fine Homes has developed."
Stevens Fine Homes builds in a wide range of North Carolina neighborhoods, including Mallory Creek Plantation, Grayson Park, Garlington Heights, Deer Crossing, Willowick and Waterford at Orchid Bay.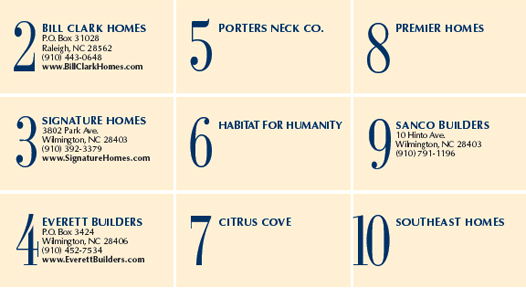 RANKINGS BASED ON TOTAL 2010 DEED TRANSFERS,
AS REPORTED BY MARKET OPPORTUNITY RESEARCH ENTERPRISE,
KNOWN AS THE M.O.R.E. REPORT