Windmill Harbour And South Carolina Yacht Club
WHEN JAMES N. "J.R." RICHARDSON set out to develop Windmill Harbour Plantation on Hilton Head Island in the early 1980s, his vision was to create a unique community. He accomplished his goal and so much more.
A longtime friend and colleague of Charles Fraser, who developed Sea Pines Plantation, Richardson said he learned from the best, working his way through the ranks of the company before venturing out on his own. The most important lesson he learned while working for Fraser was "attention to detail."
"It's the last 5 percent that makes the difference," Richardson says. "It's what everybody notices but doesn't know that they notice. It's what makes an ordinary community become an extraordinary community."
As such, Richardson is known for leaving no stone left unturned when it comes to his communities. When it came to the 172-acre Windmill Harbour property, Richardson went even further.
Windmill Harbour is in a class by itself. Its estate-sized homes, patio homes, town houses and villas are designed after the architectural style of homes found in the historic district of Charleston. Richardson made numerous trips to the Holy City, taking photograph after photograph of houses and neighborhoods, all of which he posted throughout his office during Windmill Harbour's design phase, according to his wife, Leslie Richardson.
"This is what really gave Windmill its heart and soul," Leslie says. "There was nothing else like it being done at the time on Hilton Head Island."
Properties of various sizes are carefully nestled among the tree-lined streets, which are filled with huge live oaks dripping in Spanish moss.
"What sets J.R. apart-and what sets apart Windmill Harbour-is that he cares so much about the community that he lives in and has been such a good steward of the land he develops," Leslie says.
Each of the more than a dozen neighborhoods in the community has its own character and charm, and more than 80 percent of the homes enjoy water views.
Windmill Harbour has about 500 home sites, which were sold out by the early 1990s. In the early stages of development, lots cost about $80,000 and a town house went for about $250,000. Today, lots are selling for upwards of $700,000 and estate-sized homes top out at around $2.6 million.
Located on the northernmost tip of Hilton Head Island, Windmill Harbour borders the Intracoastal Waterway and Calibogue Sound. It is conveniently located close to schools, shopping, dining and entertainment-both on and off the island. Residents also enjoy two swimming pools, a sauna, a hot tub, a sports center with seven tennis courts and full-service locker rooms. The community provides 24-hour gated security.
In the heart of Windmill Harbour lies a man-made 15-acre inland harbor with an advanced lock system and small marine store. It was one of the first yacht basins of its type built on the East Coast. The lock is 80 feet long by 20 feet wide and holds 130,000 gallons of water during low tide. Operated by a hydraulic pump and controlled by hydraulic rams on the doors, valves on the inside monitor water flow so that during high tide the water supply is automatically replenished in the marina by drawing water through two tunnels.
Richardson says the harbor was designed to protect boats from tidal changes as well as wakes created by boating traffic along the Intracoastal Waterway. The marina was built by making a cut into the sound and another cut into the high ground within the community, he explains.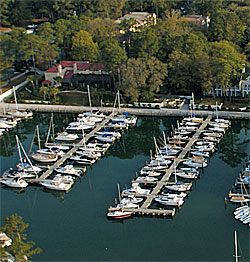 Being able to decrease the amount of water flow helps eliminate marine growth such as barnacles on the bottom of boats, providing a substantial cost savings for boat owners when it comes time to have their crafts cleaned. In addition, during hurricane season, the marina helps protect boats from storm surges.
With 260 slips, it is the largest marina on the island with direct deep-water access. Mariners also have access to full harbor master services. The marine is home to the South Carolina Yacht Club, a "labor of love" effort by Richardson and his wife.
Windmill Harbour caters to both boaters and non-boaters. Residents do not have to be members of the yacht club, nor do boaters have to live in the community to secure a boat slip. Of the 600-plus yacht club members, about 50 percent are residents, Richardson says. That's the way he and Leslie planned it from the beginning, he adds.
"There is constant fun and frolicking at the club," he says. "There's always something going on, from holiday events to junior sailing programs to fundraisers."
Members of the Yacht Club enjoy full clubhouse privileges, including both casual and fine dining and meeting and banquet facility areas. The Catesby Room, which provides a lovely view of the marina, is named after naturalist artist Mark Catesby. The room is filled with several of his originals.
The most popular spot in the Yacht Club is the Blue Fish Lounge. A huge wooden bluefish, which Richardson found on a business trip, hangs from the ceiling, and each Christmas he adorns the fish's mouth with Santa cap. The room is modeled after Richardson's "vision" of the bar in the classic film "Casablanca," with rows of fans swaying back and forth. Once completed, he rented the movie to see how close he came to recreating the scene.
The Blue Fish Lounge wasn't anything like the bar in the movie; however, Richardson says he was pleased with the end result.
In addition there is the Trophy Room, the Chart Room and a wine cellar, located below for private dining parties. Several membership classifications are available.